Science and technology sector urged to promote creativity among community
Post by: admin - Post date: Thursday, Feb 27, 2020 | 15:44 - View count: 1449
In 2019 witnessed a clearer formation of facilities and professional activities of Vietnam – Korea Institute of Science and Technology (VKIST) – as the set target, 2020 will be the year of the margin for VKIST's activities officially put into operation.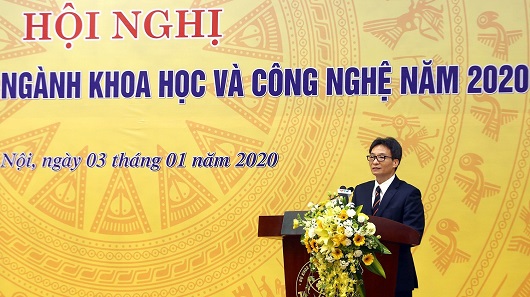 The statement was made by Deputy Prime Minister Vu Duc Dam at a conference held by the MoST to review its operation in 2019 and devise tasks for 2020.
Speaking at the event, the Deputy PM hailed the contributions made by the science and technology sector to the country's development over the recent years.
He noted that Vietnam jumped three spots to 42nd position out of 129 world economies in the Global Innovation Index in 2019, while standing first among 26 middle-income countries and ranking third in ASEAN, behind Singapore and Malaysia.
In order to turn Vietnam into a high-income country in the next 20 years, all sectors should work together with the science and technology sector, added the Deputy PM.
He also urged the honour of creations and initiatives among the community, thereby encouraging inventors and scientists to make further great contributions to the sector in the coming time.
At the conference, Deputy PM Vu Duc Dam presented first-class Labour Order to former Minister of Science and Technology Tran Quoc Khanh and third-class Labour Order to former Minister of Science and Technology Pham Cong Tac.
Link: https://en.nhandan.com.vn/scitech/item/8289202-science-and-technology-sector-urged-to-promote-creativity-among-community.html