Support businesses to apply traceability technology
Post by: Trương Vân - Post date: Wednesday, Nov 6, 2019 | 14:02 - View count: 924
On October 31, the MOU signing ceremony with a content focused on traceability systems and traceability technology solutions that can be applied to businesses in Vietnam.
The program took place with two main contents: The MOU signing ceremony  between the VietNam Certification Center (QUACERT) and Bering & Company Oy on "the promotion and provision of Blockchain traceability technology at Vietnam "and MOU signing ceremony  among Bering & Company Oy, QUACERT and Hanoi Beer Alcohol and Beverage Joint Stock Corp (HABECO) on" piloting the traceability system for HABECO".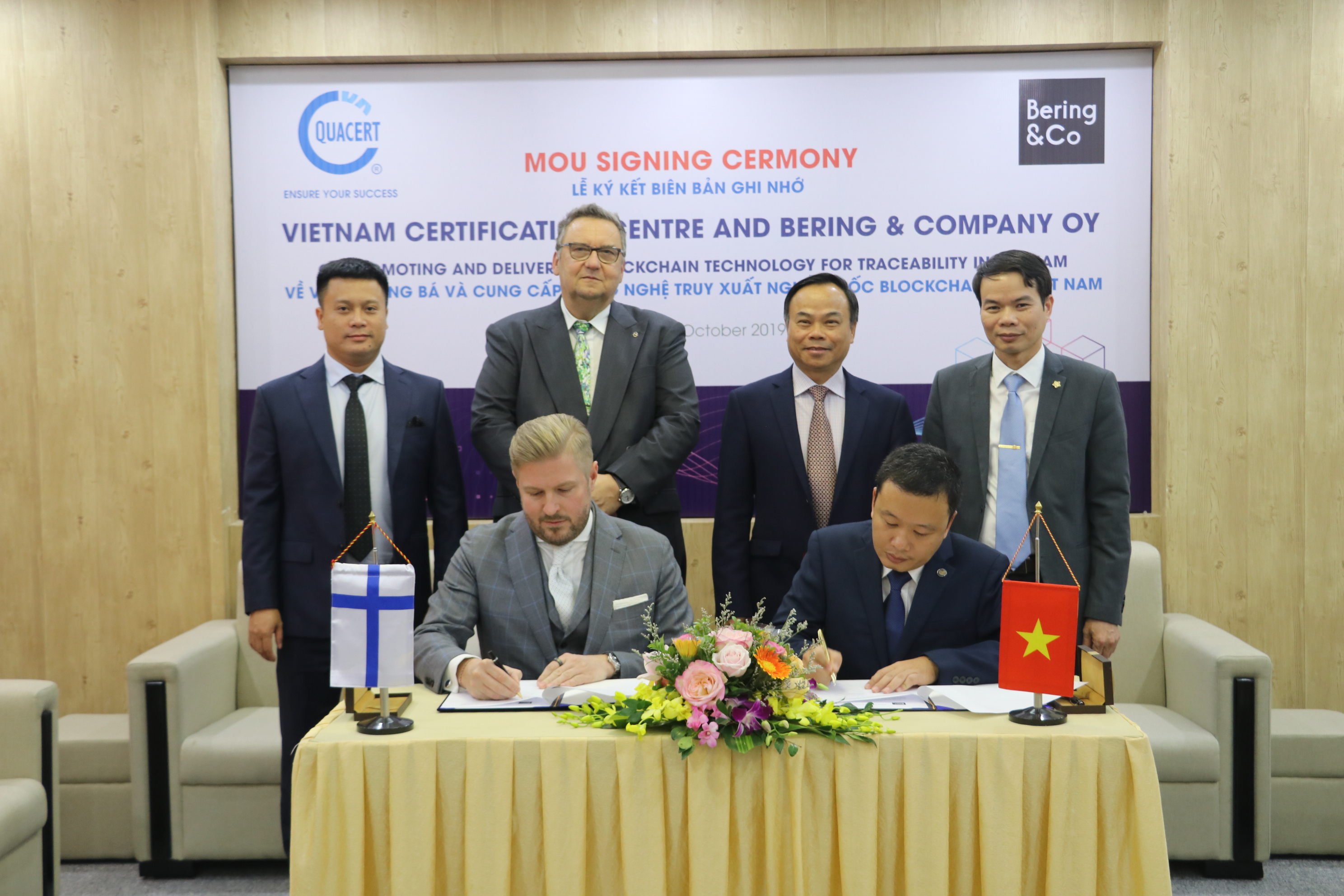 Witness the MOU signing ceremony  with Mr. Kari Kahiluoto – Ambassador of Finland in Vietnam and Mr. Tran Van Vinh – General Director of the Directorate for Standards, Metrology and Quality.
Previously, on October 18, 2019, QUACERT also signed a MOU with VTT Technical Research Center  of Finland (VTT) on " Research program about developing smart city in some provinces in Vietnam ". Building KPIs to make a smart city is an important issue for Vietnam, especially more when received sharing and transfer from Finland, that a leading developed country on Smart City.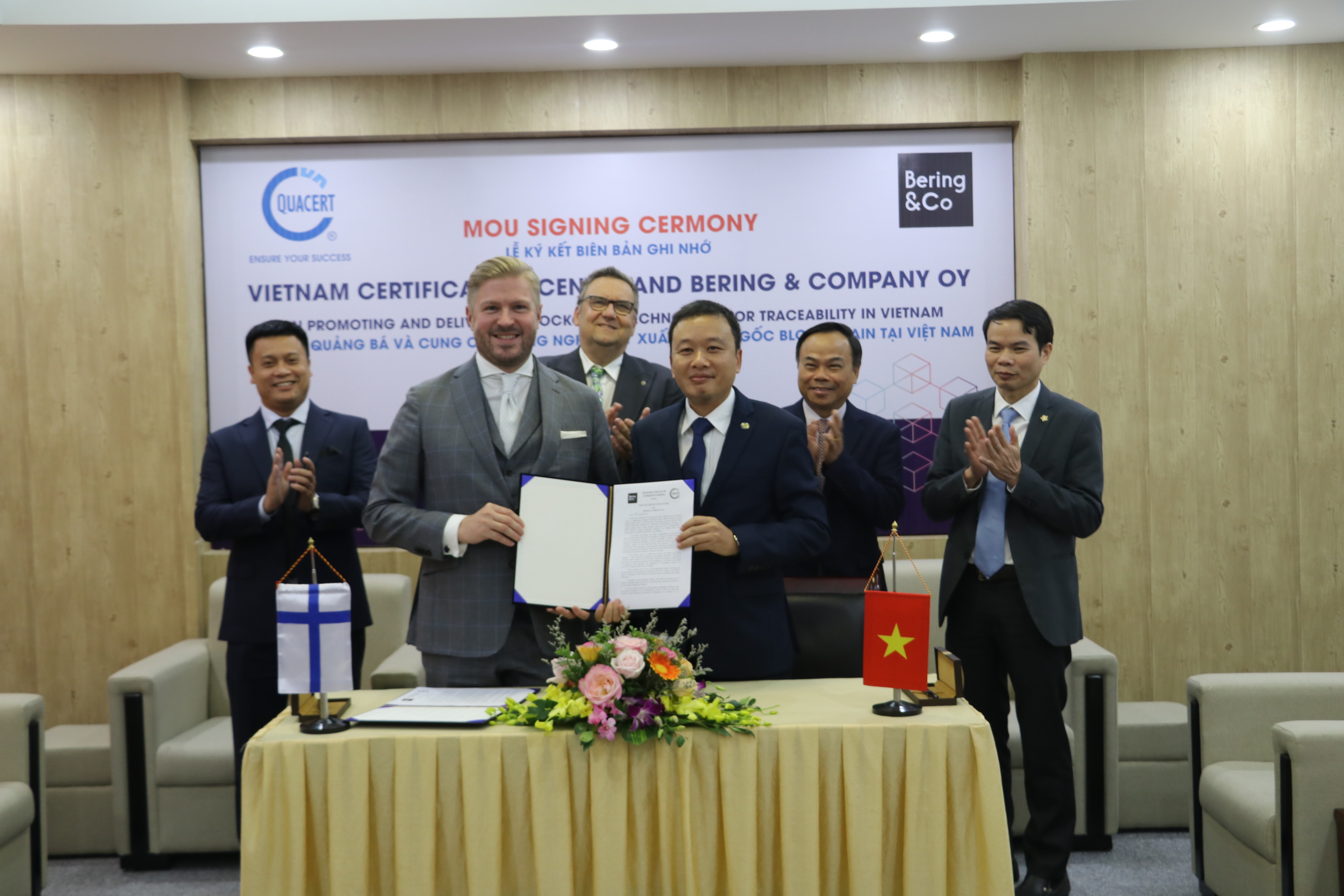 The MOU signing ceremony between QUACERT and Bering & Company Oy.
Traceability is an urgent requirement for businesses today. Both the importing country and the domestic market be needed to apply traceability system. The concept of traceability is not limited to traceability of product information (final product), but also information in the entire production process from raw material to final product. As such, it is a system of collecting and storing information continuously of the entire production chain, and must be able to accurately access for different purposes.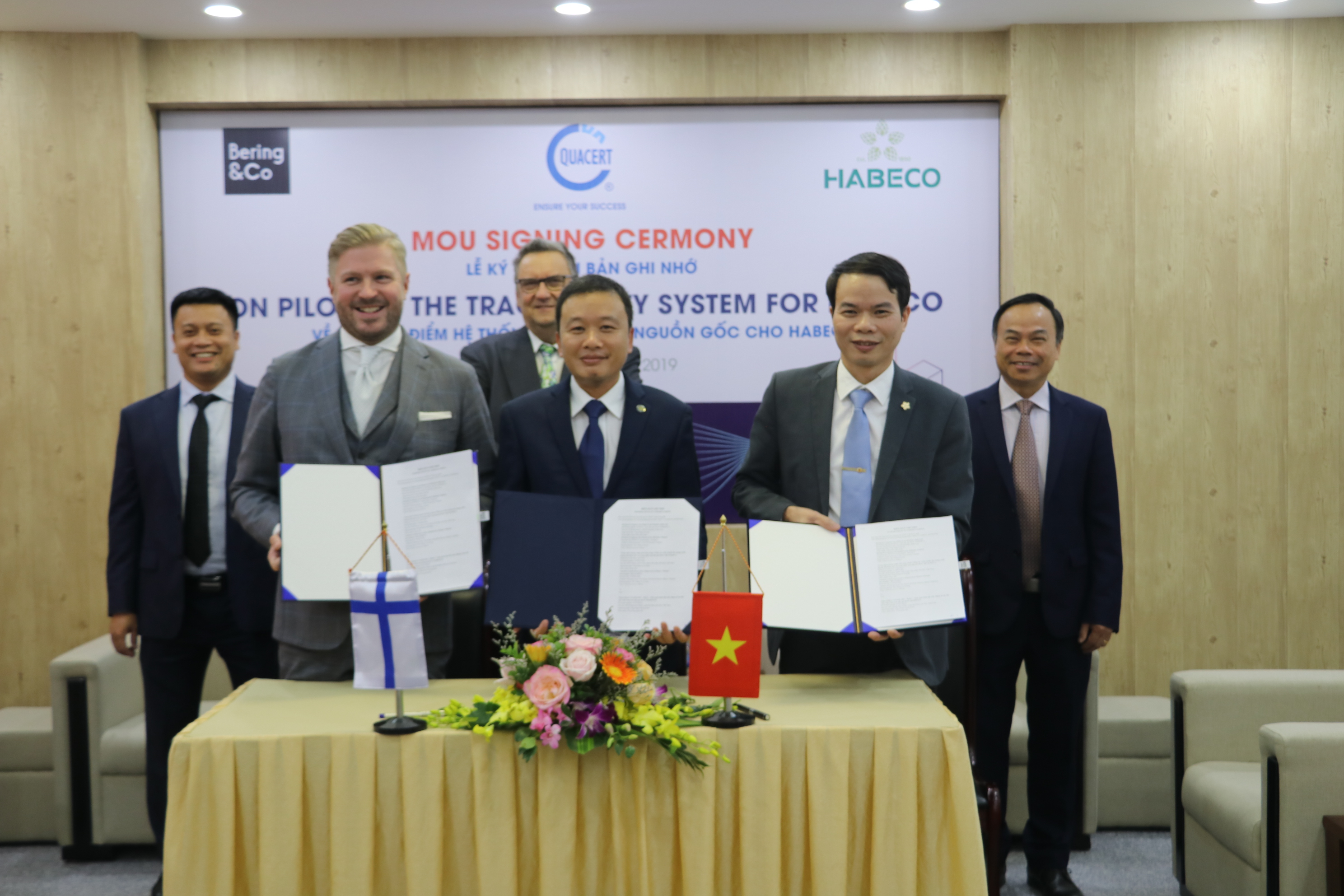 The MOU signing ceremony among Bering & Company Oy, QUACERT and HABECO

Therefore, the cooperation signing with Finland's Bering & Company Oy will greatly assist in the dissemination and application of Blockchain traceability technology to Vietnamese businesses to achieve business results more optimistic as well as catch up with international businesses in quality assurance, the origin of goods.

[wpdevart_facebook_comment curent_url="https://tcvn.gov.vn/2019/11/support-businesses-to-apply-traceability-technology/?lang=en" title_text="" title_text_color="#000000" title_text_font_size="22" title_text_position="left" width="100%" bg_color="#CCCCCC" animation_effect="random" count_of_comments="2" ]